For your next stay choose Strasbourg as a privileged destination!
With a direct access from the highways, our hotel is ideally located :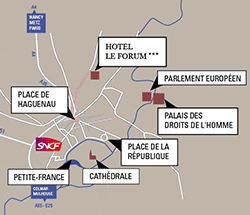 1 Km from the historical
center of Strasbourg,


1 Km from the TGV EST Railway station


1,5 Km from the "Palais des Congès",


2 Km from the European institutions,


4 Km from the Zenith concert hall.

The hotel Le Forum will be the compulsory stop for one night or more, in the way to organize your business meetings as
well as to access to the different tourist sites.
Thanks to the various activities we offer, our dynamic team will welcome you in a
warm atmosphere allying comfort and relaxation.
Alone, in family or with your friends, come to share this moment in a sympatic and
friendly place.

COMBINE BUSINESS WITH PLEASURE!
Visiting Strasbourg DownTown with its monuments and museums, feeling the rich past of this region by walking along the Ill river bring up huge pleasures.


An ideal place to stop for a meal, whether you are a connoisseur of gastronomic food or simply love eating, discover and taste the famous
local specialities.
Approaching Christmas, Strasbourg becomes the
"Capital de Noël"
'.
From the end of November until the begining of January you can visit the biggest Christmas Market of France in
an enchanting and magic athmosphere, hot red Christmas wine and gingerbread.
Unforgettable, Schiltigheim is known to be the Beer Capital, where you can drink this delicious beverage served in a traditional beer glass. Beginning August, you can join the
Beer Feast
, a musical event taking place at the same time as a huge street market.
Contact us to known the exact date.
Strasbourg may also be the starting point to visit ''La Route des Vins", the road crossing over the Alsacian wineyards and joining the Haut-Koenigsbourg Castle and hundred of other beautifull sites in our unforgettable region.



Let's visit the website of the Tourist Office of Strasbourg